Go, Elon! From Steve Watson at summit.news:
Tucker Carlson explained Thursday why Elon Musk's attempted takeover of Twitter is "the single most important development for free speech in the modern history of the United States," noting that the platform is "where elite opinion is incubated."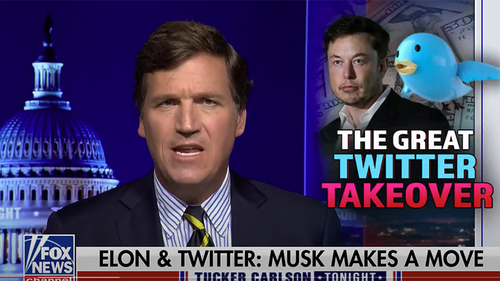 The host declared that Twitter "is the single most important forum for speech possibly in the world," but that it is currently being used to foment mass group-think.
"As Musk put it, Twitter's potential is to be 'the platform for free speech around the globe.' Twitter will neither 'thrive nor serve the societal imperative in its current form. Twitter needs to be transformed as a private company," Carlson said.
He further highlighted that "if Twitter's board rejects Elon Musk's offer, they will need to explain why to their shareholders. They turned down a deal that would make the shareholders much richer."