The only difference between Washington Democrats and Republicans is the former slightly favor the welfare state but have no problem with the warfare state and the latter slightly favor the warfare state but have no problem with the welfare state. From David Stockman at antiwar.com:
What's wrong with these people?!
We are referring, of course, to Mitch McConnell & Co's ostentatious visit to Kiev this weekend.
With the sad-sack Senate Republican leadership in tow, the bejowled political hack who leads the ostensible "opposition" party provided still another unwarranted boost to the dangerous megalomaniac pictured at the center of the photo below.
The fact is, Zelensky would rather shame the west into precipitating WWIII than own up to the fact that the aggressive anti-Russian actions of his own government fostered the calamity that now besets his country. Those foolish actions include his pledges to forcibly take back Crimea, join NATO, and re-acquire nukes – along with the launch, before Russia's February 24th invasion, of an all-out offensive against the Russian-speakers of the Donbas.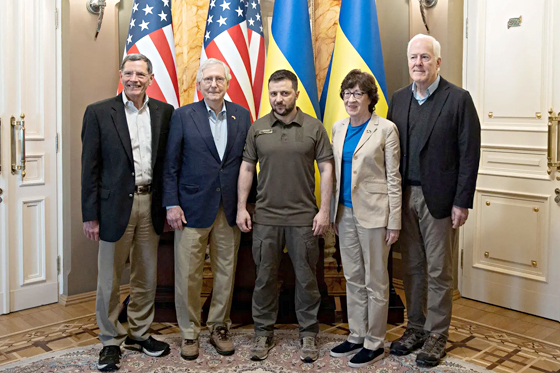 So let us repair to the fundamentals. To wit, the intramural conflict between Russians and Ukrainians in the historic borderlands of Russia has no bearing whatsoever on the liberty and security of the American homeland. Yet here was the GOP leadership pledging America's unstinting support in treasure, if not blood, for a regime in Kiev that is only slightly less corrupt and authoritarian than Putin's strongman kleptocracy in Moscow.