Justin Trudeau and his cohort have set out to destroy an once great Canada. From Jordan Peterson at nationalpost.com:
Rough times are a-coming, what with the cascading consequences of energy shortages, supply chain disruptions, war in Ukraine and severe and looming food and fertilizer shortages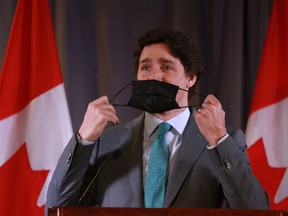 Article content
I have had the great privilege of travelling to 40 American cities in just about as many states and to 15 European countries in the last four months, in the waning days of the great COVID panic, and I have learned many things about our great and self-conscious nation.
First: I have not travelled anywhere else where the citizens and the government are more neurotically "concerned" about the pandemic. It may have escaped Canadians' notice, but virtually nowhere else in the developed world is it now required to wear a mask, as is still mandatory in many of Canada's airports and on flights out of our benighted country. There is absolutely no excuse for this, except the punitive self-righteousness of the Trudeau Liberals. What else might you expect, however, from a government that also includes Chrystia Freeland, a deputy prime minister who has bragged about her colleagues' appalling economic performance, claiming that it is actually good for Canadians to empty their wallets at the gas pumps, because of its implications in fighting the "climate emergency." I simply cannot believe that this absolute failure of economic policy is now being trumpeted as a positive accomplishment. Here's a hint for you saintly progressives: if you cared about the poor (the real poor, not the hypothetical poor you are hypothetically saving in the future), you would seek to drive down the cost of energy — energy that is precisely equivalent to work and, therefore, to the wealth that ameliorates poverty.