Some market reactions to the Italian economic and political crisis, from Wolf Richter at wolfstreet.com:
Markets wail and gnash their teeth as "normalization" of Italian yields sets in.
On Tuesday, Italian bonds had their worst day in Eurozone existence, even worse than any day during the worst periods of the 2011 debt crisis. And this comes after they'd already gotten crushed on Monday, and after they'd gotten crushed last week. And this happened even as the ECB is carrying on its QE program, including the purchase of Italian government bonds; and even as it pursues its negative-interest-rate policy (NIRP). As bond prices plunge, yields spike by definition, and the spike in the two-year yield was spectacular, going from 0.3% on Monday morning to 2.73% on Tuesday end of day: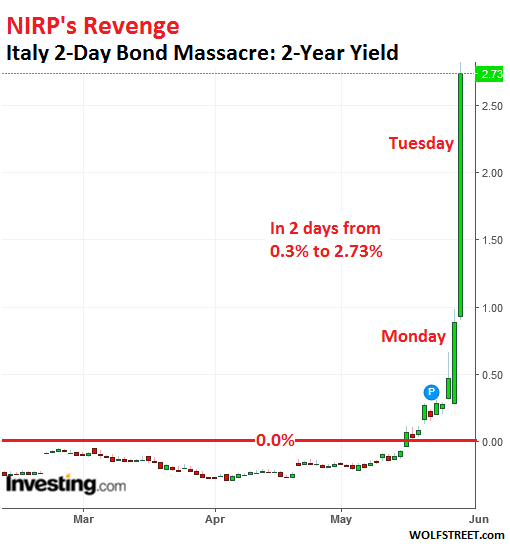 But note that until May 26, the two-year yield was still negative as part of the ECB's interest rate repression. On that fateful day, the two-year yield finally crossed the red line into positive territory.
To this day, it remains inexplicable why the ECB decided that Italian yields with maturities of two years or less should be negative – that investors, or rather pension beneficiaries, etc., who own these misbegotten bonds, would need to pay the Italian government, one of the most indebted in the world, for the privilege of lending it money. But that scheme came totally unhinged just now.
The 10-year Italian government bond yield preformed a similar if not quite as spectacular a feat. Over Monday and Tuesday, it went from 2.37% to 3.18%: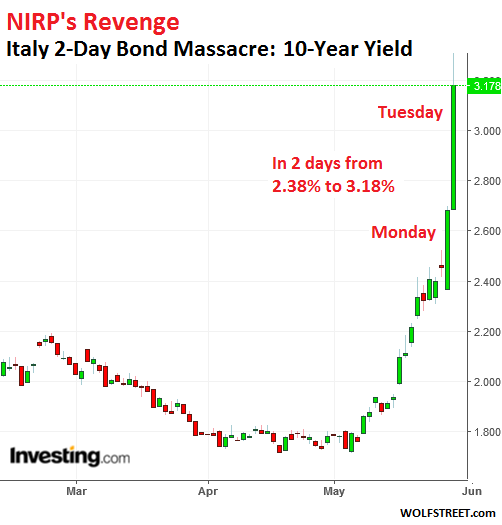 But here's the thing: Italian bonds – no matter what maturity – should never ever have traded with a negative yield. Their yields should always have been higher than US yields, given that the Italian government is in even worse financial shape than the US government. Italy's debt-to-GDP ratio is 131%, and more importantly, it doesn't even control its own currency and cannot on its own slough off a debt crisis by converting it into a classic currency crisis, which is how Argentina is dealing with its government spending. The central bank of Argentina recently jacked up its 30-day policy rate to 40% to keep the peso from collapsing further.
To continue reading: NIRP's Revenge: Italian Bonds Plunge, Worst Day in Decades