This is how financial crashes get rolling, and this episode has some equity derivatives to spice things up. From Tyler Durden at zerohedge.com:
Update (615am ET): Just around the time Nomura closed down 16.3%, its biggest drop on record after warning it faces around $2 billion in prime brokerage losses (see below) tied to a single US client – the now infamous Archegos tiger cub hedge fund – Swiss banking giant, Credit Suisse, was also swept up in the Archegos vortex after the Swiss bank said it faces a potentially "highly significant" loss from a U.S. hedge fund client defaulting on margin calls, sending the Swiss bank's share plunging as much as 16%, the most since March last year and wiping out all 2021 gains.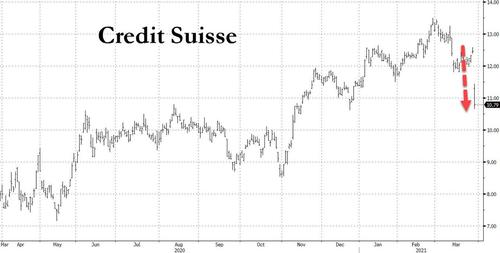 While the actual loss number was not defined, estimates pegged it in the $2-3 billion ballpark, and one commentator said that "Credit Suisse $CS lost its entire year profit because it is out-smart by Goldman aka the Sharks on the street and by a One Day."
"While at this time it is premature to quantify the exact size of the loss resulting from this exit, it could be highly significant and material to our first quarter results," the bank said in an emailed statement, without naming the fund, although the name was quite clear.
Credit Suisse also said it was in the process of exiting positions after the client default.
The loss comes at an awkward time for Credit Suisse, as the Greensill matter is still far from being resolved, and Credit Suisse faces "yet another issue that has the potential to result in a material impact on its results," Vontobel analyst Andreas Venditti wrote in a note