You wouldn't think an institution that can legally print money would lose money. From Wolf Richter at wolfstreet.com:
We find a good rubbernecking spot.
How Big Are the Fed's Losses and Where Can We Go See Them?
We find a good rubbernecking spot.
A collapse-chart has been making the rounds in the social media, financial blogs, and the like. It's being handed around without context, as if self-explanatory, sort of like, look, the world is collapsing. It's from the St. Louis Fed's data depository. The title of the chart says, among other things, ominously, "Liabilities: Remittances Due to the U.S. Treasury." Whatever this is, it's violating the WOLF STREET dictum, "Nothing Goes to Heck in a Straight Line."
But beyond the funny aspects of the chart, there is something happening on the Fed's balance sheet that is taking on momentum and heft: How much money the Fed is losing, where this lost money shows up, and how it derails a taxpayer gravy-train. The chart reflects that in a bizarre manner — it does a switcheroo — that we'll get to in a moment.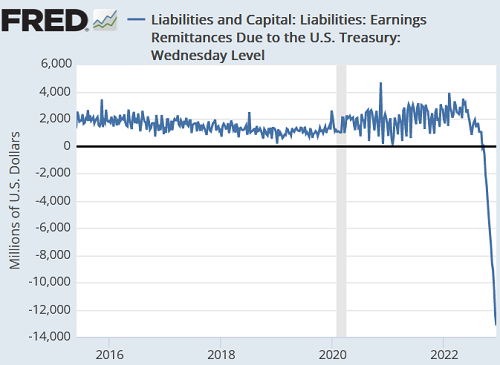 A liability is money that the Fed owes some other entity – in this case, money that the Fed owes the US Treasury Department. But this particular liability account, "Earnings remittances due to the U.S. Treasury," is kind of a funny creature.
It has a negative balance of -$13.2 billion as of the Fed's weekly balance sheet released yesterday. On a balance sheet measured in trillions, this is pretty small. But it's going to get a lot funkier.