Just in case you're keeping score, here's the latest on debt. From Wolf Richter at wolfstreet.com:
US National Debt Spiked by $1 trillion in 5 weeks to $26 trillion. Fed monetized 65%. Business debts spike to high heaven.
Trillions are now whooshing by at a breath-taking pace. The US gross national debt – the total of all Treasury securities outstanding – jumped by $1 trillion over the past five weeks, from May 4 through June 8, and by $2.5 trillion for the 11 weeks since March 23.
The total US national debt outstanding has reached $26 trillion, according to the Treasury Department. I've been fretting about this debt on my site since 2011. In recent years, I innocently added a green upward arrow with "Debt out the wazoo" to my gross-national-debt charts, unaware that this tongue-in-cheek label would turn into a factual, data-based technical term: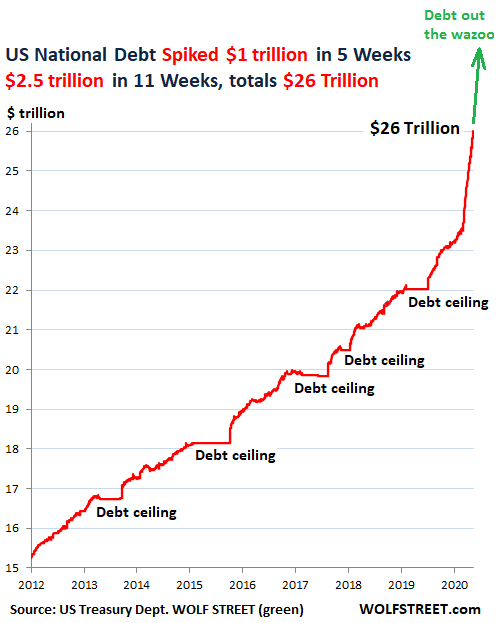 And think about this: The huge mountain of debt that took decades to grow to this gargantuan size has exploded by another 10% in just 11 weeks.