A new documentary shows how the Pentagon and CIA put Hollywood in their pockets. From David Swanson at antiwar.com: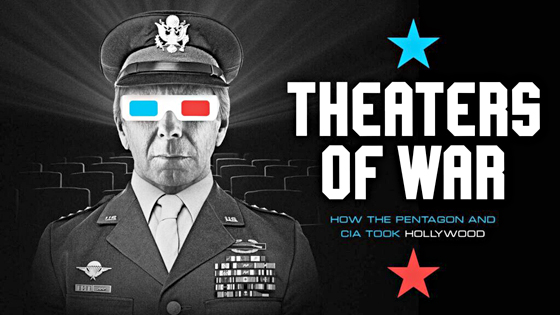 Propaganda is most impactful when people don't think it's propaganda, and most decisive when it's censorship you never knew happened. When we imagine that the U.S. military only occasionally and slightly influences US movies, we are extremely badly deceived. The actual impact is on thousands of movies made, and thousands of others never made. And television shows of every variety. The military guests and celebrations of the US military on game shows and cooking shows are no more spontaneous or civilian in origin than the ceremonies glorifying members of the US military at professional sports games — ceremonies that have been paid for and choreographed by US tax dollars and the US military. The "entertainment" content carefully shaped by the "entertainment" offices of the Pentagon and the CIA doesn't just insidiously prepare people to react differently to news about war and peace in the world. To a huge extent it substitutes a different reality for people who learn very little actual news about the world at all.
The US military knows that few people watch boring and non-credible news programs, much less read boring and non-credible newspapers, but that great masses will eagerly watch long movies and TV shows without too much worrying about whether anything makes sense. We know that the Pentagon knows this, and what military officials scheme and plot as a result of knowing this, because of the work of relentless researchers making use of the Freedom of Information Act. These researchers have obtained many thousands of pages of memos, notes, and script re-writes. I don't know whether they've put all of these documents online — I certainly hope they do and that they make the link widely available. I wish such a link were in giant font at the end of a fantastic new film. The film is called Theaters of War: How the Pentagon and CIA Took Hollywood. The Director, Editor, and Narrator is Roger Stahl. The Co-Producers are Matthew Alford, Tom Secker, Sebastian Kaempf. They've provided an important public service.