Not my president. Not my country. 70 million plus people's allegiance to the United States of America just died. From Nebojsa Malic at rt.com: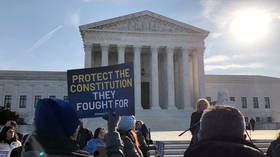 By washing its hands of responsibility to hear the Texas challenge to the 2020 presidential election, the nine Justices of the US Supreme Court may have sealed the country's fate and made a kinetic civil war much more likely.
On Friday, the highest court in the land decided that Texas "lacked standing" to challenge the conduct of elections in Georgia, Michigan, Pennsylvania and Wisconsin under Article 3 of the US Constitution. Yet the article in question explicitly states that the SCOTUS will be the original jurisdiction in "Controversies between two or more States; – between a State and Citizens of another State; – between Citizens of different States," among other things.
Contrary to media reports, Texas did not seek to "overturn" the election of Democrat Joe Biden. The motion filed by Attorney General Ken Paxton very explicitly called for the court to order the state legislatures thereof to seat the electors, as is their constitutional prerogative. Yes, those legislatures are majority Republican, but nothing guaranteed they would actually back President Donald Trump. After all, Georgia has a Republican governor and secretary of state, and both declared the election clean as a whistle, brushing off all evidence of alleged irregularities.