When you make promises you can't keep, it has consequences other than the broken promise. From Tyler Durden at zerohedge.com:
As a result of high taxes and government debt, combined with a nightmarish looming pension liability, Chicago's housing market continues to collapse, according to a new write-up in the City Journal.
Average home prices in Chicago have still not recovered from the downturn that started in 2009, despite the fact that property taxes continue to climb. This is part of the reason Illinois ranks highest among states losing people to other areas of the country. Chicago homeowners are also taking big losses when they sell their homes.
Ball State economist Michael Hicks said last month: 
"Taxes are high, the services [that taxes] pay for are terrible, and the debt load is so high, so palpably unsustainable that people have no belief that the resources can be found to turn it all around."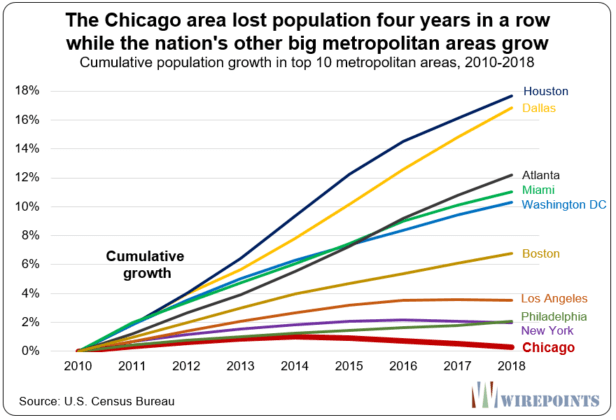 "You won't recruit a business, you won't recruit a family to live here," Chicago mayor Rahm Emanuel said in 2012, warning about the city's pension problems. And that looks to be the case: Realtor.com predicted that Chicago would have the weakest housing activity this year among the nation's top 100 markets.