The canary is gasping. From Dhaval Joshi at BCA Research via zerohedge.com:
Quietly and off most people's radar screens, US residential fixed investment (home building) has slumped by 20 percent in the past year – a rate of decline that puts it on a par with the major housing recessions of 1990, 1980, 1973, 1965, and 1951.
Housing recessions matter because they are the 'canary in the coal mine' for economy-wide recessions. Not all economic recessions follow housing recessions1, but most housing recessions presage economic recessions.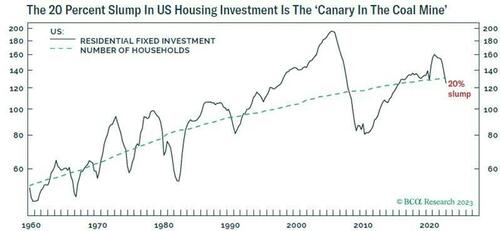 US Housing Recessions Are The 'Canary In The Coal Mine'
Housing recessions are the canary in the coal mine for interest rate induced economic recessions. This is because, just as the canary is hyper-sensitive to toxic gases, housing investment is hyper-sensitive to interest rates.
Higher interest rates transfer more income from borrowers to lenders, making it more costly to service existing debt and take on new debt. This suffocates the most indebted parts of the economy – homeowners, homebuilders, and housing investment – before it suffocates the broader economy. So, just as the canary keels over before the coal miner, housing investment keels over before the broader economy.