It's a shame that the only decent Democrat is dropping out of politics. It would be interesting to find out why. From RT at rt.com: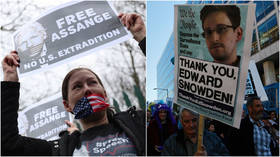 Outgoing Democratic Rep. Tulsi Gabbard has urged President Donald Trump to issue pardons for Edward Snowden and Julian Assange, echoing growing calls to absolve whistleblowers who helped to "expose" the US "deep state."
"Since you're giving pardons to people, please consider pardoning those who, at great personal sacrifice, exposed the deception and criminality of those in the deep state," Gabbard said in a tweet addressed to the president on Thursday, referring to Snowden and Assange.
The request comes less than a day after Trump granted a pardon for former national security adviser Michael Flynn. His case became a central plank in the Trump-Russia "collusion" narrative after he was accused of misleading investigators about contacts with a Russian diplomat following Trump's election win in 2016. While the Justice Department moved to have the case thrown out, citing misconduct in the FBI's probe, a federal judge resisted that effort, prompting the president to intervene on Wednesday.
Gabbard, who's set to leave office at the end of her congressional term, previously introduced a resolution alongside GOP lawmaker Matt Gaetz (Florida) urging the government to drop its charges against Snowden – who was indicted under the World War I-era Espionage Act for his role in leaking classified material revealing illegal mass surveillance by the National Security Agency (NSA). Though the antiquated law was originally intended to prosecute foreign spies, it has been repeatedly wielded against journalists and whistleblowers.