We'll believe it when we see it, but this the first time in years anyone in the media has speculated that Julian Assange might be freed. From Tyler Durden at zerohedge.com:
While the Biden administration claims to champion a free and transparent press – with Attorney General Merrick Garland instituting expanded protections for journalists in October, during which he said "a free and independent press is vital to the functioning of our democracy," calls have been growing for Biden to release perhaps the most famous political prisoner in the world; Julian Assange.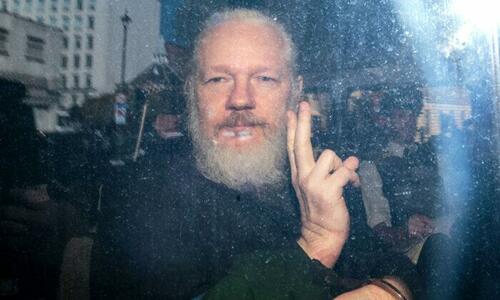 According to The Guardian – which ironically has one of the worst records when it comes to pro-establishment / anti-Assange reporting, "the biggest test of Biden's commitment remains imprisoned in a jail cell in London, where WikiLeaks founder Julian Assange has been held since 2019 while facing prosecution in the United States under the Espionage Act."
Assange notably exposed US war crimes in Iraq, Afghanistan and the military prison at Guantánamo Bay, which included 400,000 field reports about the Iraq War; 15,000 unreported deaths of Iraqi civilians; and systematic rape, torture and murder committed by Iraqi forces after the U.S. military "handed over detainees to a notorious Iraqi torture squad," according to TruthOut.
WikiLeaks also disclosed the Afghan War Logs, which are 90,000 reports of more civilian casualties by coalition forces than the U.S. military had admitted to. And its revelations additionally included the Guantánamo Files, 779 secret reports showing that 150 innocent people had been held there for years and documenting the torture and abuse of 800 men and boys in violation of the Geneva Conventions and the Convention Against Torture and Other Cruel, Inhuman or Degrading Treatment or Punishment.