There is no idea so stupid that some professor or other esteemed intellectual won't believe it. From MN Gordon at economicprism.com: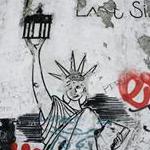 "Where the hell are we?" – President Joe Biden, February 16, 2021
Highway to Hell
The President asked a most important question.  So we'll offer the puzzled fellow an answer…
We – as in the USA – are hurtling down the highway to hell.  The state of the union is chaos.  America's finances are completely out of control.
Spending is rapidly outpacing revenue.  Debts and deficits are mushrooming like mold spores on wet drywall.  Rot and decay have set in.  The nation's structural foundations have fallen into irreversible disrepair.
Don't believe us?
According to the recently published Congressional Budget Office (CBO), Budget and Economic Outlook: 2021 to 2031, America's broker than broke.  For example, the CBO projects a federal budget deficit of $2.3 trillion in 2021.  At 10.3 percent of gross domestic product (GDP), the deficit in 2021 would be the second largest since 1945, exceeded only by the 14.9 percent shortfall recorded last year.
The CBO projects federal debt held by the public will reach 102 percent of GDP at the end of 2021, and more than 107 percent of GDP by the end of 2031.  And as the Committee for a Responsible Federal Budget clarifies, the CBO's report shows:
"Four major trust funds are on a path toward insolvency.  CBO projects Highway Trust Fund insolvency in FY 2022, Medicare Hospital Insurance trust fund insolvency in FY 2026.  Social Security Old Age and Survivors Insurance trust fund insolvency appears likely in calendar year 2032 and Social Security Disability Insurance trust fund insolvency in the mid-2030s.
"Debt could be even higher than projected. If policymakers enact $2 trillion of additional fiscal relief, extend expiring tax provisions, and grow annual appropriations with GDP, debt would total 120 percent of GDP by 2031."