Big tech and mainstream media are one big club, and they work with and protect each other. From Bowen Xiao at theepochtimes.com: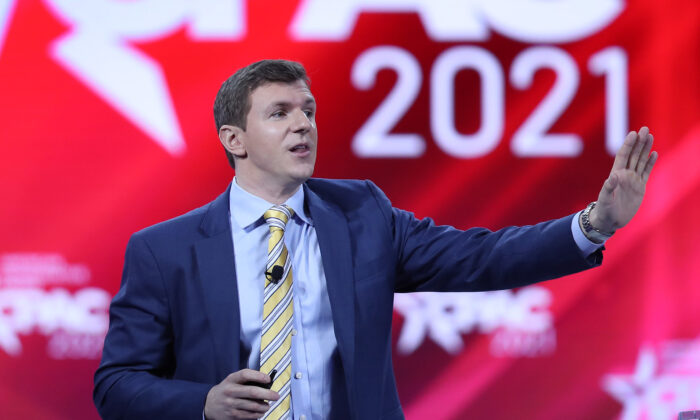 James O'Keefe, president of Project Veritas, addresses the Conservative Political Action Conference being held in the Hyatt Regency in Orlando, Fla., on Feb. 26, 2021. (Joe Raedle/Getty Images)
The Twitter account of James O'Keefe, the founder of Project Veritas, was permanently suspended on April 15 following a series of recordings the undercover journalism nonprofit posted as part of an expose on CNN.
A Twitter spokesperson didn't immediately respond to a request for comment. However, other reporters said the social media platform told them that O'Keefe had been banned "for violating the Twitter Rules on platform manipulation and spam."
Twitter pointed to a section in the company's rules, which states: "You can't mislead others on Twitter by operating fake accounts," and "you can't artificially amplify or disrupt conversations through the use of multiple accounts."
At the time of the suspension, O'Keefe had over 900,000 followers. A link to his profile now shows a screen that states "account suspended."
O'Keefe told The Epoch Times he had heard something about a Twitter source reportedly saying the ban was due to "running a network of accounts that claimed to be things they weren't." He said the social media company would be emailing him momentarily with a formal reason.
O'Keefe later posted a screenshot on Telegram of the email Twitter sent to him regarding his account. That email said he was "permanently suspended" specifically for "fake accounts" used to "manipulate Twitter conversations."
"I don't know what they think, that I'm a Russian bot?" O'Keefe said in a phone call. "I don't know what they are talking about. We just did the CNN thing for three days—I guess we are too effective.
In a statement sent via text, O'Keefe said he will sue the social media platform for defamation.
"I'm suing Twitter for defamation because they said I, James O'Keefe, 'operated fake accounts.' This is false, this is defamatory, and they will pay. Section 230 may have protected them before, but it will not protect them from me. The complaint will be filed Monday."
A CNN staffer was recently caught on hidden camera saying that the network worked during the 2020 presidential election to produce content that would help lead President Joe Biden to victory. Project Veritas published the first of three recordings on April 13.
Charlie Chester, a technical director at CNN, was secretly filmed by Project Veritas during a number of fake Tinder dates set up over the past month. He suggested that if it weren't for the network's "propaganda," former President Donald Trump would have been reelected in 2020.
"Look at what we did, we got Trump out," Chester said. "I am 100 percent going to say it. And I 100 percent believe it that if it wasn't for CNN, I don't know that Trump would have got voted out."
He told the undercover reporter, who pretended to be a nurse during the fake dates, that he decided to work at the network because he "wanted to be a part of that."
"Our focus was to get Trump out of office, right? Without saying it, that's what it was," Chester said.
Other videos showed that a CNN head had personally intervened to order the cable network's staff to display the number of people who have died of COVID-19 during a broadcast.
In February, Twitter suspended the account of Project Veritas and locked the account of the O'Keefe at the time, after he released a video of a Facebook official talking about the social media website's policies.
Jan Jekielek and Isabel van Brugen contributed to this report.