Don't worry, though, because today's inflation is "transitory." From Wolf Richter at wolfstreet.com:
"Transitory" is the new Spandex.  
For its measurement of its inflation target – the "symmetrical" 2% – the Fed uses the "core PCE" inflation measure because it is the lowest lowball inflation measure the government publishes, and it understates actual inflation even more than other indices. "Core PCE" excludes food and energy, which can be volatile but make up a big part of what people on the lower half of the income scale spend their money on.
And today, this lowball core PCE measure of inflation rose by 3.62% compared to a year ago, the hottest inflation reading since May 1991: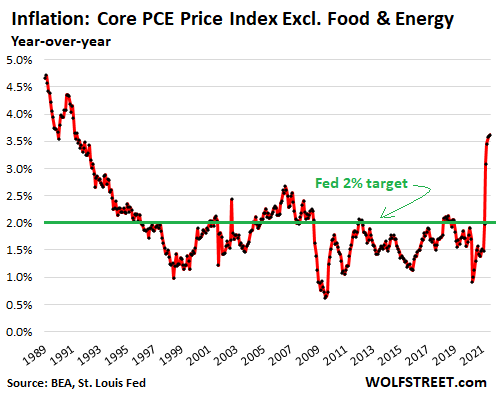 The month-to-month increase of 0.331% was roughly the same red-hot as the month-to-month increase as in July (0.338%), according to the Bureau of Economic Analysis today. This works out to be an annualized pace of 3.9% (12 x 0.331%), which is higher than the current 12-month core PCE of 3.62%.
The PCE price index with food and energy included jumped by 0.4% for the month (4.8% annualized), and by 4.3% from a year ago. This is the hottest PCE inflation reading since January 1991: