The deference and adulation affording lying, duplicitous, ethically conflicted Anthony Fauci encapsulates everything that's been wrong about the response to Covid-19. From Roger Kimball at The Epoch Times via zerohedge.com:
So, St. Anthony Fauci has come down from his mountain top with a new list of "thou-shall-nots" and the news that it is "too early" to say whether he will allow families and friends to congregate for Christmas.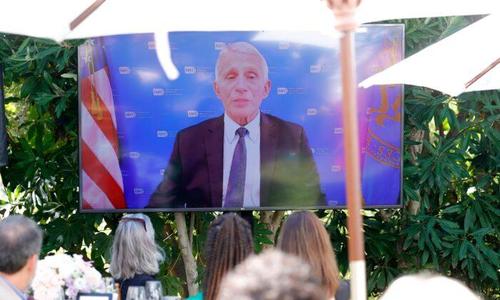 It is not too early for the body politic to engage in one gigantic spasm of retroperistalsis and expel that tyrannical medical pest from the community.
After all, Dr. Fauci is the chap who tells anyone who will listen that, when it comes to vaccine mandates, "There comes a time when you do have to give up what you consider your individual right of making your own decision for the greater good of society."
Ah, yes, "greater good of society"—as defined, it goes without saying, by A. Fauci.
It is long past time for this fomenter of hysteria to go. He has being terrorizing the American populace for decades.
Give him a padded cell, a mirror, and a TV camera and he will be happy.
Back in the 1980s, Fauci was a superspreader of the myth that an important vector for the transmission of HIV was heterosexual intercourse.
For the last couple of years, he has been terrifying the public with tales from the crypt about the virus he helped develop with American taxpayer money for "gain of function" research in a Chinese virology lab in Wuhan.
The fact that this Bela Lugosi of the medical establishment is also a publicity addict who can't pass a television camera without primping and dispensing contradictory but depressing dicta makes him a public nuisance.
You see his baneful influence everywhere.