President Biden can wave his wand and make prices stop rising. From Tyler Durden at zerohedge.com:
When discussing today's "shock" CPI report we said that it was just a matter of time before there is a wave of political blowback that will make the recent anti-democrat revulsion in Virginia and NJ seem like amateur hour. Specifically, we said that "the explosive inflation surge threatens to exacerbate political challenges for President Brandon as he seeks to pass a nearly $2 trillion tax-and-spending package and defend razor-thin congressional majorities in next year's midterm elections."
And most importantly, wage increases are NOT keeping pace with the soaring cost of living (real waged growth is negative)…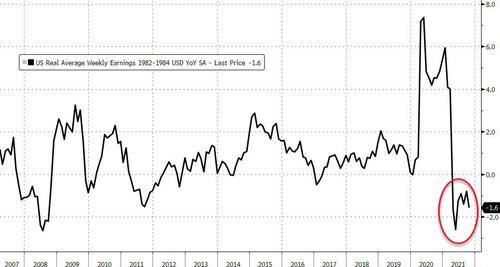 It took just a few minutes for this prediction to materialize because just around the time the market opened, Biden addressed the public and confirmed that unlike the Fed, he is finally starting to freak out about soaring prices, to wit:
… on inflation, today's report shows an increase over last month. Inflation hurts Americans pocketbooks, and reversing this trend is a top priority for me. The largest share of the increase in prices in this report is due to rising energy costs—and in the few days since the data for this report were collected, the price of natural gas has fallen.

I have directed my National Economic Council to pursue means to try to further reduce these costs, and have asked the Federal Trade Commission to strike back at any market manipulation or price gouging in this sector.
And just how does Biden plan on pulling this directive straight out of communist China? Will he restart the Keystone XL pipeline; or will the US fund shale producers – that could be awkward in light of Joe's faux environment concerns. Then again, it's just optics confirming that in a time of near-record inflation, at least Biden's talk remains extremely cheap.