It could be a disastrously cold winter in Europe. Too bad they're substituting unreliable renewables for reliable fossil fuels and nuclear power. From Tyler Durden at zerohedge.com:
Europe's energy crisis is about to get a whole lot worse as the Northern Hemisphere winter is just weeks away. New risks are emerging across the continent that households and companies might have to scale back on power use or even plan for rolling blackouts.
There is no immediate fix to the energy crisis that comes from the supply side, with Russia's Gazprom, the largest supplier of natural gas to Europe, only pumping what it has. At the same time, EU stockpiles remain well below trend.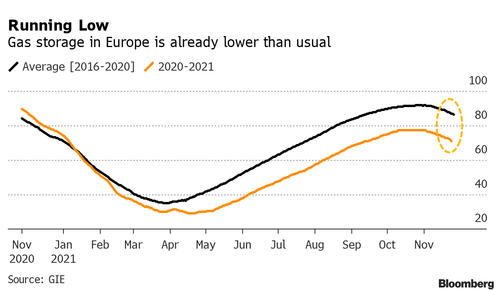 On Tuesday, Prime Minister Mario Draghi said Italy's government is ready to combat soaring energy prices for households, according to Bloomberg.
"We set aside 1.2 billion euros ($1.4 billion) in June and over 3 billion euros in September," Draghi said. "We are now taking steps in the budget and are prepared to continue doing so, with particular attention to the most vulnerable."
"Given the current energy supply system, a blackout cannot be ruled out" across Europe, Minister Giancarlo Giorgetti said, adding that "it's important to neutralize the impact of increased energy bills on households and companies in the fairest way possible."
Even before the winter season arrives, cold weather is driving energy prices across Europe to record highs. The massive rally in European gas prices is not diminishing anytime soon. Gas prices at the Dutch TTF hub, the benchmark gas price for Europe, jumped to €100 per MWh, adding more pressure on households who are already dealing with rapid food and shelter inflation.