Monetary inflation has inflated the prices of both financial assets, which is good for those who own them, and the necessities of life, which is bad for those who must pay for rent, food, medical care, utilities, and gas. From David Stockman at zerohedge.com:
Authored by David Stockman via Contra Corner blog,
Our paint by the numbers central bankers have given the notion of being literalistic a bad name. For years they pumped money like mad all the while insisting that the bogus "lowflation" numbers were making them do it. Now with the lagging measures of inflation north of 5% and the leading edge above 10%, they have insisted loudly that it's all "transitory".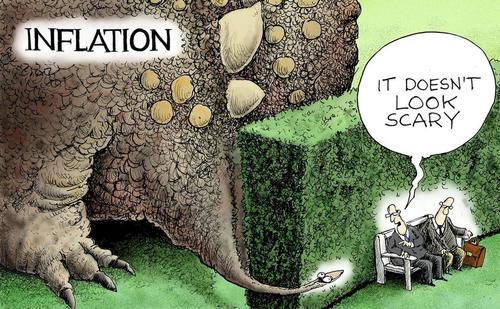 Well, until today when Powell pulled a U-turn that would have made even Tricky Dick envious. That is, he simply declared "transitory" to be "inoperative".
Or in the context of the Watergate scandal of the time,
"This is the operative statement. The others are inoperative." This 1973 announcement by Richard Nixon's press secretary, Ron Ziegler, effectively admitted to the mendacity of all previous statements issued by the White House on the Watergate scandal.
Still, we won't believe the Fed heads have given up their lying ways until we see the whites of their eyes. What Powell actually said is they might move forward their taper end from June by a few month, implying that interest rates might then be let up off the mat thereafter.
But in the meanwhile, there is at least six month for the Fed to come up with excuses to keep on pumping money at insane rates still longer, while defaulting to one of the stupidest rationalizations for inflation to ever come down the Keynesian pike: Namely, that since the American economy was purportedly harmed badly, and presumably consumers too, with the lowflation between 2012 and 2019, current elevated readings are perforce a "catch-up" boon. That is, more inflation is good for one and all out there on the highways and byways of main street America!