Alarge majority of the country wants no part of the Democrats' far left agenda. From Tyler Durden at zerohedge.com:
President Biden's disapproval rating hit a new high in December, with 60% of voters disapproving his handling of the economy, 55% on his handling of the pandemic, and 56% disapproving of his overall job as Commander-in-Chief, according to a new CBS/Change poll.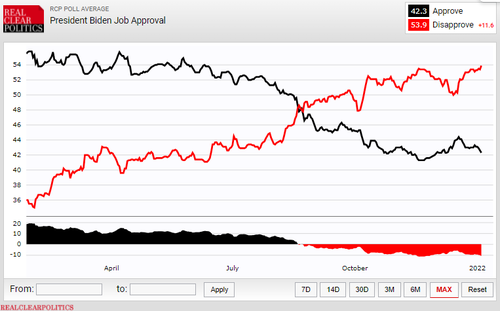 Biden's disapproval rating sat at 54% in early September, up from 49% in April.
His approval rating currently stands at 44%, down from 46% in September and 51% in April, according to the report, which notes that this is the latest sign of trouble as the Biden admin looks to tackle a wide range of economic and political problems as midterm elections loom. In addition to scrambling to quell fears over inflation, Biden needs to resurrect his Build Back Better legislation, and beef up the country's public health response as the omicron Covid-19 variant rapidly spreads.
Frustrations over the economy are the main culprit behind Biden's flagging popularity as nearly every demographic declared it their No. 1 issue.

The economy was the top priority for men and women, every age cohort, Latino and white voters, and those with and without college educations. Black respondents, who named racism their chief priority, said the economy takes second place.

Sixty percent of the survey's 1,895 respondents said they disapprove of Biden's handling of the economy, marking a six-point decline in approval from September.

On personal economic issues, voters are even more likely to criticize the president. Some 72% disapprove of his handling of the price of everyday goods, while 66% disapprove of his efforts to help their wallets. –CNBC
And as we noted on Sunday, Biden's 2022 is shaping up to be a political disaster.