Cheap credit is the oxygen of housing bubbles and credit is getting more expensive. From Wolf Richter at wolfstreet.com:
Stocks of homebuilders swoon amid worst inflation in construction costs, shortages, and spiking mortgage rates that take buyers out of the market.
Sales of new single-family houses in April plunged by 16.6% from March and by 26.9% from a year ago, to a seasonally adjusted annual rate of 591,000 houses, the lowest since lockdown April 2020, according to the Census Bureau today. Sales of new houses are registered when contracts are signed, not when deals close, and can serve as an early indicator of the overall housing market.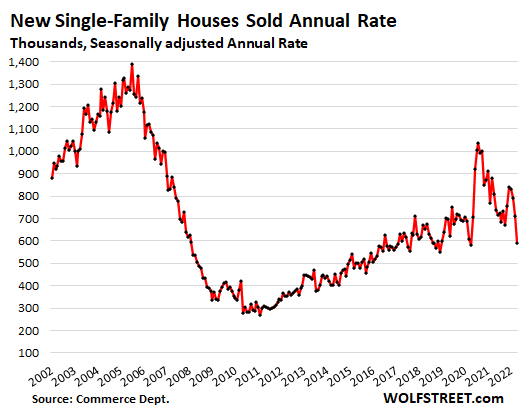 By region, sales plunged the most in the South:
South: -19.8% for the month, -36.6% year-over-year.
Midwest: -15.1% for the month, -25.5% year-over-year
West: -13.8% for the month, -12.4% year-over-year.
Northeast: -5.9% for the month, +17.1% year-over-year