It would be interesting to see a case concerning alleged forced labor in China get to a Western court, to sort through the accusations and vehement denials. From Soeren Kern at gatestoneinstitute.org:
The suit accuses Spain-based Inditex (whose brands include Zara, Bershka, Massimo Dutti, Oysho, Pull and Bear and Stradivarius), France-based SMCP (comprised of Parisian brands, Sandro, Maje, Claudie Pierlot and De Fursac), U.S.-based footwear company Skechers, and the U.S. subsidiary of the Japanese fashion retailer Uniqlo, of being "accomplices in serious crimes," including "concealment of the crime of forced labor, the crime of organized human trafficking, the crime of genocide and crimes against humanity."
The plaintiffs are asking the French judiciary to rule on the "possible criminal liability" of the companies. The stated aim is to "end impunity" for the brands, which are accused of "offloading on their subcontractors their responsibility for human rights."
"In fact, many companies in the sector are likely, at one stage or another of their production, to profit, consciously or not, from the coercive policy pursued by Beijing towards the Turkic peoples, whether in Xinjiang or in factories in other regions of China where Uyghur workers are sent." — French newspaper Liberation.
"China's systematic campaign against the Uyghur population is characterized by mass detention, forced labor, and discriminatory laws, and supported through high-tech manners of surveillance. There are reasonable grounds to believe that China is responsible for crimes against humanity. It is important to recall that crimes against humanity were born out of the experience of the Holocaust and first were prosecuted at Nuremberg. Every government has committed to protect their populations from crimes against humanity." — Naomi Kikoler, Director, Simon-Skjodt Center for the Prevention of Genocide, United States Holocaust Memorial Museum.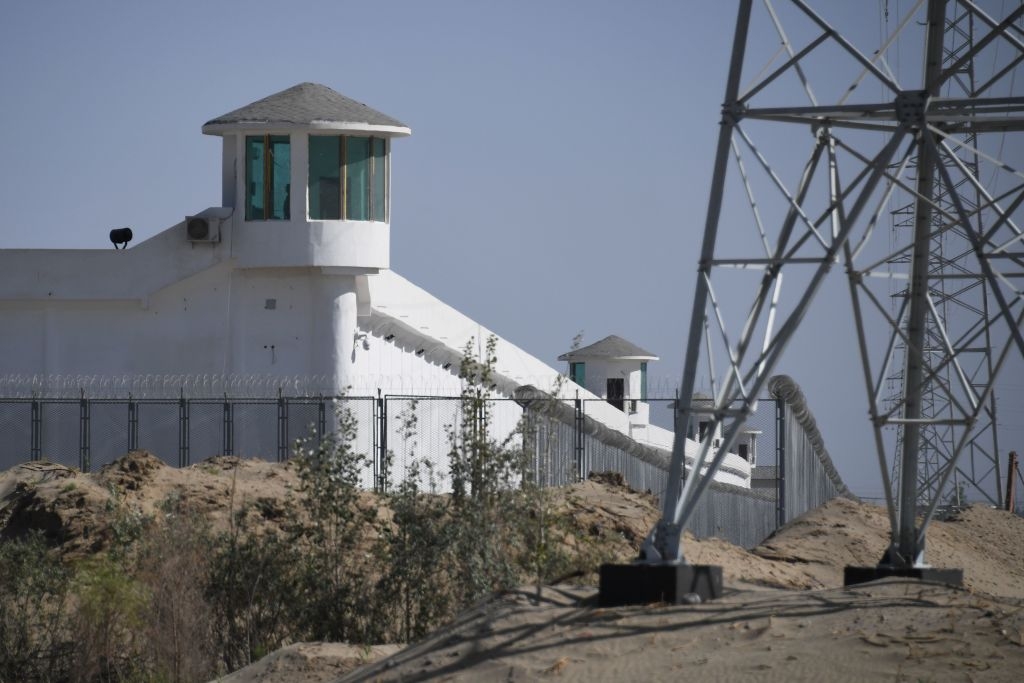 Human rights experts accuse the Chinese government of detaining at least one million Muslims in Xinjiang in up to 380 internment camps, where they are subject to torture, mass rapes, forced labor and sterilizations. Pictured: The outer wall of an internment camp on the outskirts of Hotan, in China's Xinjiang region. (Photo by Greg Baker/AFP via Getty Images)
Four major European and American apparel and footwear manufacturers have been sued in a French court for allegedly using forced labor in Xinjiang, a mostly Muslim region in northwestern China.