The second part of Jim Quinn's important article about the importance of truth. From Quinn at theburningplatform.com:
In Part 1 of this article I detailed the damage done by the Deep State and the inevitability of another financial crisis destined to propel this Fourth Turning into its next most violent stage. Now I will examine whether Jordan Peterson's rules for life can alleviate some of the pain headed our way.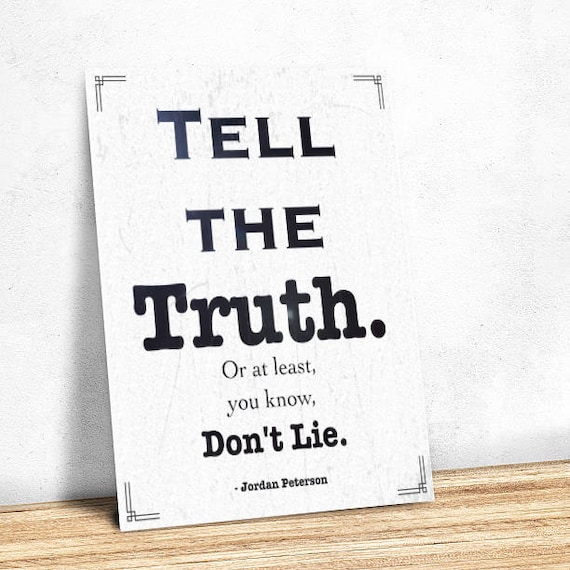 Peterson's reality-based assessment of our broken societal system has infuriated the social justice warriors and media propagandists whose narratives are based upon lies, misinformation, fake news, and a pliable dumbed down populace distracted by their techno-gadgets. The machinations of the Deep State (Wall Street cabal, Fed, captured politicians, shadowy billionaires, military industrial complex, surveillance agencies, corporate media) are dependent upon the masses believing their big lies and unquestioningly trusting their provably false narratives.
Telling the truth and demolishing these false narratives with facts is the only way to fight those who have chosen the side of evil. Remaining silent in the face of their lies allows tyranny to expand inexorably and fill the vacuum left by the dearth of courageous truth tellers.
The forces of tyranny are winning. Our banking, financial, political, and media structures are wracked by corruption and controlled by a "few" insiders for the benefit of themselves and their cronies. Smedley Butler said war was a racket, but every institution is now a racket, with a corrupt powerful cadre of evil men reaping riches at the expense of the many. Their rackets are based upon nothing but lies and the continued blissful ignorance of the masses to their flagrant criminal activities.
The dark side of human nature has been on full display as the country has been hijacked by organizations run by psychopaths like Brennan, Clapper, Comey, Soros, Dimon, Bernanke, Paulson, Rubin, Zuckerberg, Bezos and a multitude of lesser known, but equally dangerous, psychopaths infecting government, business and the media.
Those pulling the strings of our ever-degrading society share many of the same traits – superficially charming, pathologically deceitful, manipulative, accepting no responsibility for their actions, lacking empathy, absence of guilt, no humility, dishonest, treacherous, having a grandiose sense of self-worth, and prone to dangerous destructive risk taking. These are the people who rise to power when citizens become lazy, disinterested, willfully ignorant, distracted by social media, dumbed down by government run education, and easily led to believe falsehoods peddled by a media doing the bidding of the psychopaths in power.
To continue reading: A Nation Built on Lies (Part 2)