There's been workarounds and alternative media ingenuity to continue getting the message out. From Tyler Durden at zerohedge.com:
Over the past week, President Trump has been kicked off of Twitter, Facebook, Instagram, Snapchat, and was blocked from e-commerce platform Shopify – all because of a pair of relatively benign tweets on January 8th, two days after the Capitol 'riot' in which a small group of Trump supporters and a BLM activist were allowed into the Capitol Building through an opened door.
Trump's 'offending' tweets: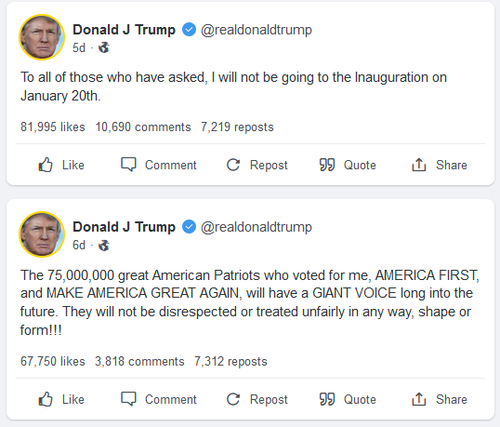 Twitter, likely realizing the 'last straw' used to justify banning a sitting US president was extremely weak sauce (a move which has shocked the world), said the tweets "must be read in the context of broader events in the country."
Furious Trump supporters immediately began to abandon Twitter for so-called 'alt-tech' conservative-friendly alternatives, Parler and Gab.
Over the weekend, however, Amazon and Google banned Parler from their app stores, while Amazon Web Services dealt the death-blow by kicking them off their AWS cloud hosting service, rending the site 'homeless' and inaccessible until they find another host. Thanks to a flood of 'cancel culture' activists targeting all things Trump, Parler continues to be 'dead' for all intents and purposes.