The financial situation of a number of Chinese property developers is dire, but the most serious issue is the state of the Chinese property market. Property is a huge part of Chinese people's assets, and weakness there will translate directly into economic weakness and perhaps a recession. From Tyler Durden at zerohedge.com:
o matter how the Evergrande drama plays out – whether it culminates with an uncontrolled, chaotic default and/or distressed asset sale liquidation, a controlled restructuring where bondholders get some compensation, or with Beijing blinking and bailing out the core pillar of China's housing market – remember that Evergrande is just a symptom of the trends that have whipsawed China's property market in the past year, which has seen significant contraction as a result of Beijing policies seeking to tighten financial conditions as part of Xi's new "common prosperity" drive which among other things, seeks to make housing much more affordable to everyone, not just the richest.
As such, any contagion from the ongoing turmoil sweeping China's heavily indebted property sector will impact not the banks, which are all state-owned entities and whose exposure to insolvent developers can easily be patched up by the state, but the property sector itself, which as Goldman recently calculated is worth $62 trillion making it the world's largest asset class, contributes a mind-boggling 29% of Chinese GDP (compared to 6.2% in the US) and represents 62% of household wealth.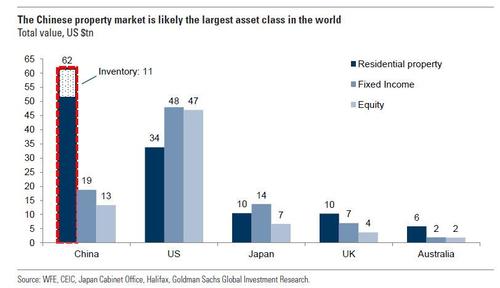 It's also why we said that for Beijing the focus is not so much about Evegrande, but about preserving confidence in the property sector.