Maybe if the U.S. had paid more attention to its wars and less to its propaganda, it might have won some of those wars. From Caitlin Johnstone at caitlinjohnstone.com:
If you use Twitter and engage with the subject of the war in Ukraine, you've probably noticed a verified account called The Kyiv Independent pop up while you're scrolling through your feed which puts out highly biased content in favor of the Zelensky regime and the western powers which support it.
If you're using a desktop browser, it will usually look like this: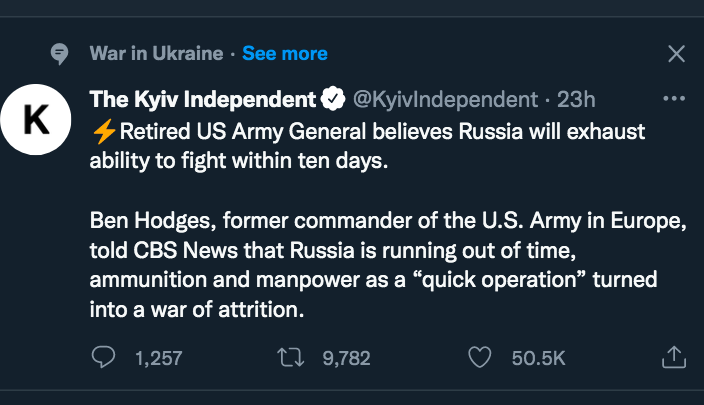 Do you see the gray text in the top left-hand corner of the image which says "War in Ukraine"? That's a Twitter "Topic" that the page's algorithm has recommended to me without my having subscribed to it, where posts from The Kyiv Independent feature prominently. This Topic is being aggressively pushed on Twitter users around the world, showing up over and over again in their feed until they adjust their settings to remove it.
As Pedro Gonzales recently documented in Human Events, The Kyiv "Independent" was slapped together a few months ago with what the Committee to Protect Journalists called "an emergency grant from the European Endowment for Democracy."