The treatment of the January 6 defendants has been a travesty, one of the most unfair and viciously punitive judicial processes in American history. From Joseph M. Hanneman at The Epoch Times via zerohedge.com:
The 14-month ordeal battling charges from his time at the U.S. Capitol on Jan. 6, 2021, had put so much stress on Matthew L. Perna that he began throwing up blood.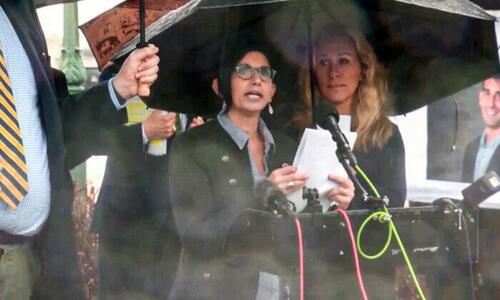 When the U.S. Department of Justice (DOJ) asked to delay his sentencing and announced that it would seek more prison time, it was a bridge too far. Perna took his own life on Feb. 25 in Sharon, Pennsylvania. He was 37.
"Worry, anxiety, stress had worn him down," Geri Perna, his aunt, said at a Capitol Hill news conference on March 17. "He suffered constant nightmares and began throwing up blood. He was no longer comfortable leaving his home.
"One setback after another took its toll on him. And he just wanted it to be over. His attorney encouraged him to plead guilty by telling him that he would not receive a fair trial in this town."
Perna stood in driving rain near the steps of the Capitol, alongside three members of Congress, to decry the treatment of Jan. 6, 2021, Capitol breach defendants by the DOJ, much of society, and influencers on social media.