In Nero's Rome, in present-day America, in any system headed towards collapse, there's always a remnant who sees what's happening and understands the consequences. Because there's little we can do about it except criticize and adjust our own personal circumstances the best we know how, we may lose sight of the fact that we're not the only members of the remnant. It's possible to find others. From Jim Quinn at theburningplatform.com:
The phrase "fiddling while Rome burns" is an intriguing idiom, referencing the great fire which ravaged Rome for six days in 64 A.D. and the legend that Nero, one of the most sadistic, decadent, and cruel rulers of all-time, instead of taking action to stop the fire, played his lyre while composing a song about Rome's destruction. The Roman historian Tacitus wrote that Nero was rumored to have sung about the destruction of Rome while watching the city burn but it's likely this was just a myth.
The fire destroyed seventy percent of the city and left half the population homeless. There are those who believe Nero set the fire on purpose, especially after he used land cleared by the fire to build his Golden Palace and its surrounding pleasure gardens. Being a soulless autocrat at heart, Nero did what all feckless politicians do, he blamed the Christians (an obscure religious sect at the time) for the fire and had many arrested and executed.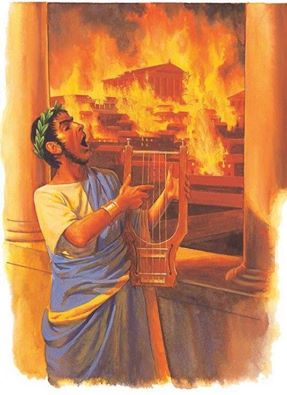 Whether this story is true or just a parable, the messages are pertinent throughout history, and never more so than now. Occupying one's time doing inconsequential things while a catastrophic event is underway is the ultimate in leadership failure. Focusing on trivial matters while your people are suffering during a time of crisis is the mark of an ineffectual irresponsible leader or one whose true purpose is to burn down society so it can be "built back better" in the form of a communist totalitarian state ruled by a globalist elite cabal.