How private is a private company when it takes marching orders from governments and politicians on what not to publish? From Isabel van Brugen at theepochtimes.com: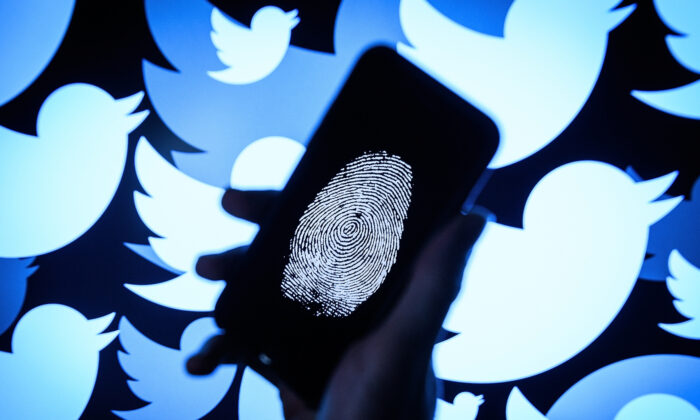 A thumbprint is displayed on a mobile phone as the logo for the Twitter social media network is projected onto a screen in London, England on Aug. 9, 2017. (Leon Neal/Getty Images)
California officials colluded with Big Tech to censor social media posts in the United States during the 2020 presidential election, government watchdog group Judicial Watch announced Tuesday.
The findings come after Judicial Watch received 540 pages and a further four pages of documents from the office of the Secretary of State of California in response to an open records request, the group said.
It had filed the request after a December 2020 report surfaced revealing that California's Office of Election Cybersecurity had surveilled and asked the social media giants to remove or flag as "misleading" at least two dozen messages.
Judicial Watch President Tom Fitton said that SKDKnickerbocker, a communications company linked to President Joe Biden's election campaign, was involved in the censoring of speech during last year's election period.
The company did this by sharing its "Misinformation Daily Briefings" with California officials, who then passed them on to social media giants Facebook, Twitter, and Google for dissemination, according to Judicial Watch.
"These new documents suggest a conspiracy against the First Amendment rights of Americans by the California Secretary of State, the Biden campaign operation, and Big Tech," Fitton said.