The odds of Iranian sanctions leading to the hoped-for overthrow of the Iranian government are low. However, they will hurt millions of Iranians. From Medea Benjamin at antiwar.com: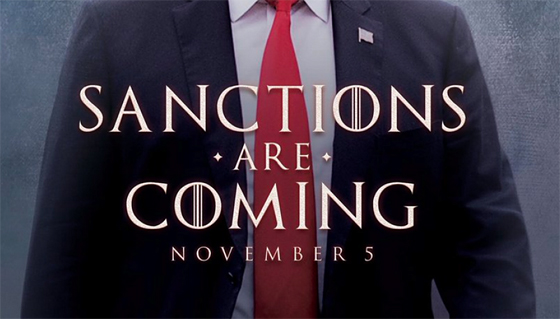 Iranian government officials want to know how the Trump administration can get away with punishing Iran and other countries for complying with the internationally recognized nuclear deal signed in 2015. "The US is, in effect, threatening states who seek to abide by Resolution 2231 with punitive measures," said President Rouhani. "This constitutes a mockery of international decisions and the blackmailing of responsible parties who seek to uphold them."
Treating the welfare of the Iranians people like a TV show, Donald Trump used a meme from The Game of Thrones – an arrogant, stylized photo of himself with the tagline: "Sanctions Are Coming November 5" – to announce the new round of crippling sanctions targeting Iran's oil exports, banks and shipping.
This is the second round of sanctions since Trump pulled out of the Iran nuclear deal, a deal that was signed in 2015 not only by the US and Iran, but also by Germany, England, France, Russia and China – and approved unanimously by the UN Security Council. It's also a deal that has been working. Iran has been complying with the most intrusive inspections regime ever devised, as the International Atomic Energy Agency has confirmed 13 times.