Heretical thoughts from a Catholic archbishop whose views contradict the church's institutional embrace of the New World Order. From Archbishop Carlo Maria Viganò at insidethe vatican.com: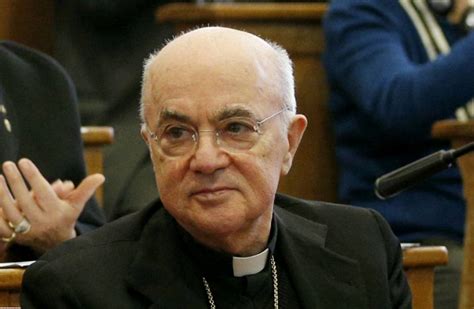 Letter #100, 2021, Tuesday, August 31: Viganò issues a new letter entitled "Deliver us from evil" (in Latin, "Libera nos a malo," the last words of the Lord's prayer)
    I received today a new text from Archbishop Carlo Maria Viganò and send it out here below.
    There is a video of the archbishop delivering this text in Italian at this Lifesitenews link. By reading the English text below while clicking on the link, you can hear the text in Italian, and follow along in English.
    P.S. The archbishop has also granted a long, wide-ranging videotaped interview, in English, to be released later this week.
LIBERA NOS A MALO
Considerations on the Great Reset
and the New World Order
by Archbishop Carlo Maria Viganò
August 28, 2021
Feast of St. Augustine
No one will be part of the New World Order
unless he carries out an act of worship to Lucifer.
No one will enter the New Age unless he receives Luciferian initiation.
                 —David Spangler, Director of the United Nations Planetary Initiative Project (Reflections on The Christ, Findhorn, 1978) 
    For more than a year and a half we have been helplessly witnessing the succession of incongruent events to which most of us are unable to give a plausible justification.
    The pandemic emergency has made particularly evident the contradictions and illogicalities of measures nominally intended to limit contagion – lockdowns, curfews, closures of commercial activities, limitations of public services and classes, suspension of citizens' rights – but which are disavowed daily by conflicting voices, by clear evidence of ineffectiveness, by contradictions on the part of the same health authorities.
    There is no need to list the measures that almost all the governments of the world have taken without achieving the promised results.
    If we limit ourselves to the presumed advantages that the experimental gene serum should have brought to the community — above all immunity to the virus and renewed freedom of movement — we discover that an Oxford University study published in The Lancet (here) stated that the viral load of those vaccinated with a double dose is 251 times greater than the first strains of the virus (here), despite the proclamations of world leaders, starting with the Italian Prime Minister Mario Draghi, according to whom "whoever gets vaccinated lives, whoever does not get the vaccine dies."