Maybe tech's leftist garbage is catching up to it. From Wolf Richter at wolfstreet.com:
Meta shares plunge 19% after hours, for a total plunge of 24% for the day: metaverse woes, online advertising, expenses.
So now, after the mess that Big Tech and Social Media companies made during the day, Meta Platforms is making a huge mess afterhours, after it released its quarterly earnings, with its shares down 19% at the moment, after having already plunged by 5.6% during the day. Combined during regular trading and after-hours trading, shares have plunged 23.8%.
Shares are now trading at $104.78, the lowest since February 2016, down 72% from their high in September 2021 (data via YCharts):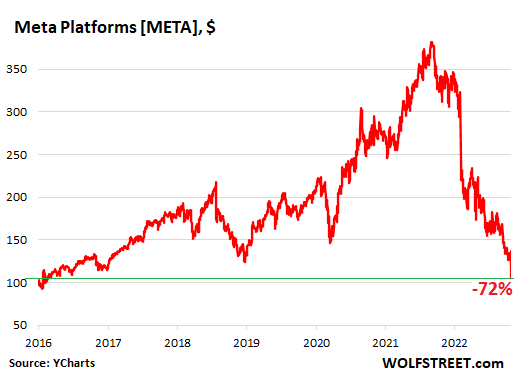 Inducted into my "Imploded Stocks."
Having plunged by over 70% from the high, Meta now qualifies for, and is thereby officially inducted into my Imploded Stocks. It's the biggest name in this noble group so far, that started out in the spring of 2021 with just a bunch of crazies, SPACs, and IPOs but has been encompassing ever larger companies since then, in a sign of how the greatest stock market bubble ever started coming unglued beneath the surface in February 2021 and just keeps coming unglued.