The second of Jim Quinn's three-part exploration of what 2021 and beyond holds in store. From Quinn at theburningplatform.com:
In Part One of this article I laid out the case the "dark winter"  narrative and how an experimental vaccine marketed like a tech product by Big Pharma and their cronies are part of a globalist scheme to reset the world and force us into subservience.
Now we get to Biden's campaign slogan, which began to be adopted in August 2020, and was beaten like a dead horse just before and after the rigged election. "Build back better" must have played well among the useless eater, mouth breather demographic, when tested by Biden's handlers. Biden would pop his head out of the basement periodically to stumble through a teleprompter speech where he was instructed to utter "build back better" three or four times.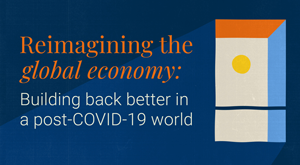 Then the contemptibly compliant corporate media expounded on the narrative as a brilliant plan by the wise statesman Joe Biden to save America from the murderous machinations of the evil orange man. Again, Google Trends reveals the coordinated effort to use this phrase in their efforts to steal the presidential election. If you think this was just a brilliant strategy by Biden's handlers, you haven't been paying attention. This is the globalist slogan to change the world.