Corporations are generally get-along and go-along politically, trying to work the best deals for themselves with whomever is in power. Australia's tyrants may have pushed the nation's corporations too far. From Tyler Durden at zerohedge.com:
Australia's corporate sector has finally had enough of the ongoing lockdowns that have left the country's economy hobbled and its people cut off from the rest of the world for months.
Increasingly frustrated by a slow vaccine rollout and the ongoing lockdowns, the leaders of many of Australia's biggest companies, including BHP, Macquarie and Qantas have signed a letter demanding that the government acknowledge it's time to "learn to live with the virus," as many other countries have done, since "COVIDZero" has finally been exposed as an impossible dream.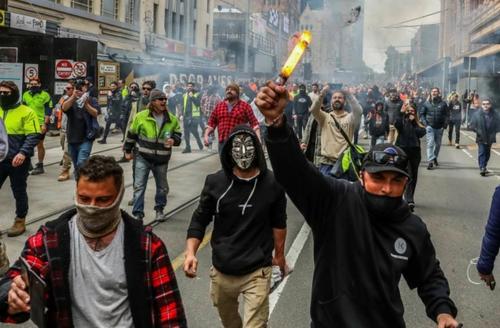 In the letter – which was reported on by the FT – the signatories allege that Australia is making "big mistakes" in failing to reopen to the world. By making the lockdowns so severe (and so unceasingly long), the Australian government is putting politics before the well-being of the Australian people ahead of the federal elections that must be held by the end of May – when the Senate's present term is slated to expire.
The companies that signed the letter "…employ almost one million Australians" and warned that lockdowns were having "long-lasting" effects on the economy. However, this shouldn't be news to Australia's political elite: Economists at Australia's central bank, the RBA, already lowered their growth projections after a stronger-than-expected Q2 GDP print.
But all the incremental data seen so far suggests that Q3 could be a disaster – well that, coupled with the intensifying economic pressure from Beijing, which is trying to win a geopolitical stare-down contest with the Australian government by blocking a growing number of imports.