Syria hasn't been able to kick the U.S. military out of the country, but if it teams up with Turkey and Russia, it probably can. That thought terrifies U.S. policymakers. From The Cradle via zerohedge.com:
During a speech in Ankara last Thursday, Turkish President Recep Tayyip Erdogan hinted that a meeting with his Syrian counterpart Bashar al-Assad may soon take place, "as part of efforts for peace." He added that a tripartite meeting between the foreign ministers of Turkiye, Russia and Syria is scheduled to be held in the near future for the first time since 2011.
Erdogan said, "As Russia-Turkey-Syria, we have launched a process through the meeting of our intelligence chiefs and defense ministers in Moscow. Then, God willing, we will bring our foreign ministers together trilaterally. Then, depending on the developments, we will come together as leaders."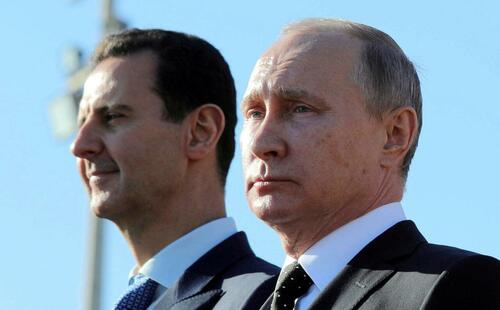 The upcoming meeting aims to enhance communication after Russian-sponsored talks between the Turkish and Syrian defense ministers were held in Moscow on 28 December. The meeting was the highest-level of official meetings between Ankara and Damascus since the start of the Syrian war.
In a phone call with Russian President Vladimir Putin on 5 January, Erdogan called on the Syrian government to 'take the steps to achieve a tangible solution concerning the case of Syria."
The US sis seeking to establish a middle ground between Ankara and the SDF in order to prevent Turkish-Syrian reconciliation.
The Syrian-Turkish rapprochement via declared Russian mediation was paralleled by Emirati-Syrian rapprochement – the latest of which was a "brotherly" meeting aimed at strengthening cooperation and restoring historical relations between Assad and Foreign Minister of the UAE Abdallah bin Zayed Al-Nahyan, according to SANA.
Saudi newspaper Asharq Al-Awsat reported that the UAE seeks "to join Russia in sponsoring Syrian-Turkish relations at a high level," noting that the Emirati foreign minister's visit to Damascus sought to arrange Turkiye's participation in the tripartite meeting of Syrian-Turkish-Russian foreign ministers, making it a quadripartite meeting.