Biden's foreign policy is the exact opposite of "cautious." From Caitlin Johnstone at caitlinjohnstone.com: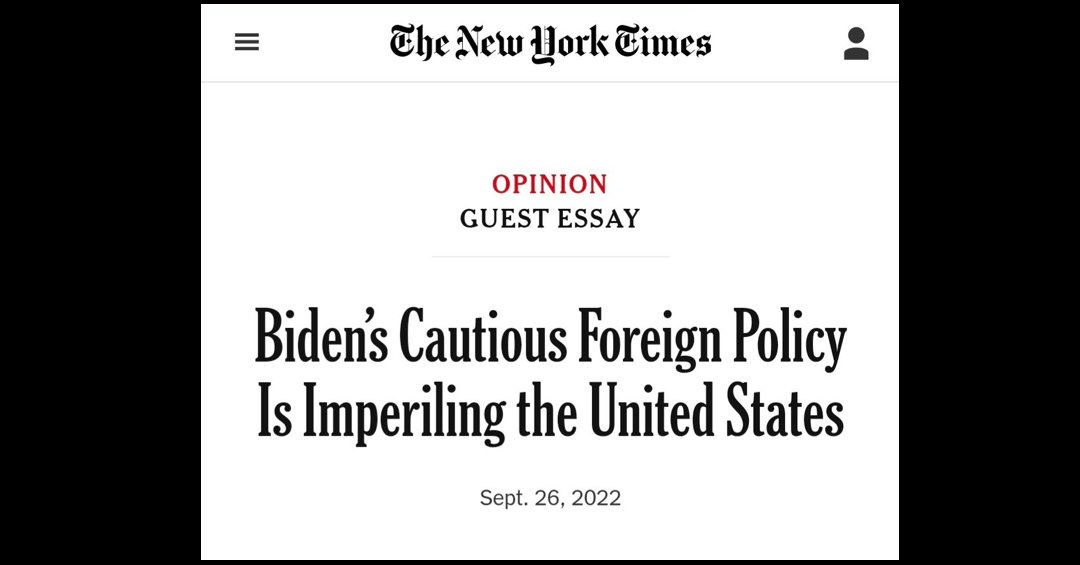 The New York Times, which consistently supports every American war, has published an op-ed by a neoconservative think tanker titled "Biden's Cautious Foreign Policy Imperils Us".
This would be Joseph Biden, the president of the United States who has been consistently vowing to go to war with the People's Republic of China if it attacks Taiwan, and whose administration has been pouring billions of dollars into a world-threatening proxy war in Ukraine which it knowingly provoked and from which it has no exit strategy. With this administration's acceleration toward global conflict on two different fronts, one could easily argue that Biden actually has the least cautious foreign policy of any president in history.
"In the aftermath of Vladimir Putin's recent nuclear threat and call-up of reservists, it was reassuring for the leader of the free world to be unflinching," writes the article's author Kori Schake, who then adds, "Rhetoric aside, the administration has signaled in numerous other ways that Putin's threats have constrained support for Ukraine."
As though the possibility of nuclear war should not constrain US proxy warfare in that country. As though the crazy thing is not the US government's insane nuclear brinkmanship with Russia, but its reluctance to go further.