Arizona Democrats have found yet another way to try to gum up the investigation into Maricopa county's voting in the last election. From Zack Stieber at zerohedge.com: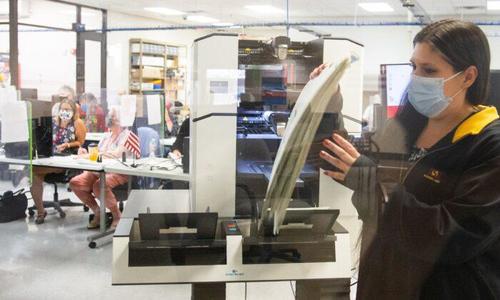 Legislators in Arizona and officials in the state's largest county clashed anew this week over election audit subpoenas, with county officials refusing to hand over routers and claiming they do not have passwords to access administrative control functions of election machines.
Arizona's Senate told Maricopa County on Friday that it would issue subpoenas for live testimony from the county's Board of Supervisors unless it received the materials that are being withheld. "We've been asked to relay that the Senate views the County's explanations on the router and passwords issues as inadequate and potentially incorrect," a lawyer for the Senate said in an email to county officials.
The Arizona Senate subpoenaed a slew of election materials, such as ballots, following the 2020 election. Lawmakers also issued subpoenas for election machines, passwords, and other technology.
Maricopa County alleged in a lawsuit that the request for materials was overly broad and threatened voter privacy. A judge, though, ruled that they were "the equivalent of a Court order." But the county said this week it is not turning over routers or router images, claiming that doing so poses a significant security risk to law enforcement.
The county has also informed the Senate's audit liaison, former Republican Secretary of State Ken Bennett, that it does not have passwords to access administrative functions on Dominion Voting Systems machines that were used to scan ballots during the election.
"They've told us that they don't have that second password, or that they've given us all the passwords they have. They've also told us that they now can't, as they promised a couple weeks ago, provide our subcontractors with the virtual access to the routers and hubs and other things at the Maricopa County tabulation and election center, as was part of the subpoenas," Bennett told One America News at the site of the audit in Phoenix.
John Brakey, a Democrat who is serving as an assistant to Bennett, told the broadcaster that he was "blown away" by the password development.
"It's like leasing a car and they refuse to give you the keys. They're supposed to be running the election. You know what's wrong? Sometimes these vendors have too much power, and we're voting on secret software, and that's why this recount down here is very important," he added.