Will Republicans go after the big social media companies? From Tony Cox at rt.com: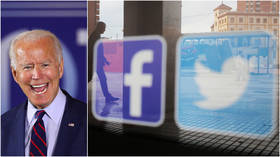 If Big Tech's latest censorship fiasco – the suppression of a New York Post scoop that might harm Joe Biden's presidential campaign – doesn't spur Republicans to act, they may as well quit pretending to represent their voters.
If even this isn't enough to trigger so-called conservatives to loosen Silicon Valley's death grip on America's public marketplace of ideas, nothing will. All the talk about defending free speech and fighting election interference will be exposed for the meaningless posturing that it is, much like all those years of hearing Republicans campaign on stopping illegal immigration, which they had no intention of doing.
In this case, however, the stakes are more personal for Republican politicians. This isn't only about throwing their constituents under the bus and giving lip service about political bias while taking donations from the likes of Google and Amazon. This time, the bus is about to run over them and leave tread-marks on their former careers in Washington.→