Meet the intellectual firepower behind the drive to install a Marxist order. From Tyler Durden at zerohedge.com:
Richard Andrew Cloward and Francis Fox Piven are two names that are largely unfamiliar to the average American, but, as Jason Brown notes, their historical relevance is being seen all over the country today as we watch civil unrest in the form of riots ensue.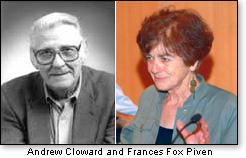 As Brandon Smith detailed previously, in the mid-sixties at the height of the "social revolution" the line between democratic benevolence and outright communism became rather blurry. The Democratic Party, which controlled the presidency and both houses of Congress, was used as the springboard by social engineers to introduce a new era of welfare initiatives enacted in the name of "defending the poor", also known as the "Great Society Programs". These initiatives, however, were driven by far more subversive and extreme motivations, and have been expanded on by every presidency since, Republican and Democrat alike.
At Columbia University, sociologist professors Richard Cloward and Francis Fox Piven introduced a political strategy in 1966 in an article entitled 'The Weight Of The Poor: A Strategy To End Poverty'.

This article outlined a plan that they believed would eventually lead to the total transmutation of America into a full-fledged centralized welfare state (in other words, a collectivist enclave). The spearpoint of the Cloward-Piven strategy involved nothing less than economic sabotage against the U.S.