Apple is running into trouble in China, and the US stock market bellwether is now down over 35 percent from its recent all-time high. From Wolf Richter at wolfstreet.com:
"We did not foresee the magnitude of the economic deceleration." Oh dude, starting the year out on the right foot.
On Wednesday after the market closed, Apple released a letter to shareholders in which it said that revenues are going to be a lot worse in the quarter ended December 29 than its guidance two months ago, that iPhone revenues have dropped year-over-year, that China's economic problems are deeper than expected, and that iPhone revenues are hurting elsewhere too. This confirms a series of revenue warnings from Apple suppliers.
Shares plunged 7.5% after hours to $146. If shares close at this level on Thursday, it would be the lowest close since November 7, 2017. Shares have plunged 38% in three months. Wow, this was quick: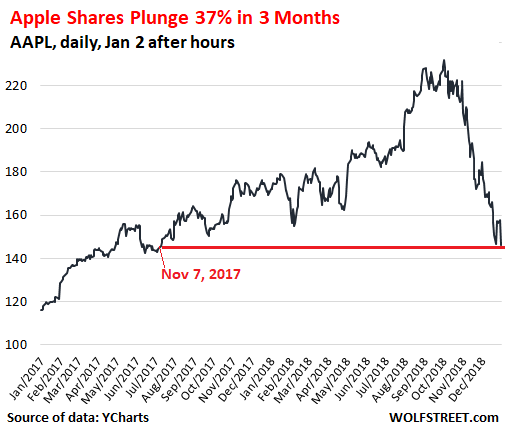 In its "Letter from Tim Cook," Apple slashed its revenue guidance by 6% to 10% from its prior guidance two months ago, to about $84 billion in the quarter, down from its previous guidance of $89 billion to $93 billion.