The European banking system is in the kind of trouble that could presage a global financial crisis. From Wolf Richter at wolfstreet.com:
The benefit of NIRP: There's hell to pay – even the ECB admits it.
European bank shares – which have been getting crushed and re-crushed for 12 years – are getting re-crushed again. On Friday, the Stoxx 600 Banks index, which covers major European banks, including our hero Deutsche Bank, dropped to an intraday low of 130.5 and closed at 131.2, thereby revisiting the dismal depth of December 24, 2018 (130.8).
European banks did not soar on the first trading day after Christmas, unlike other stocks. Instead they fell further and hit their multi-year low on December 27 (129). The index is down 21.5% from a year ago and 33% from January 2018: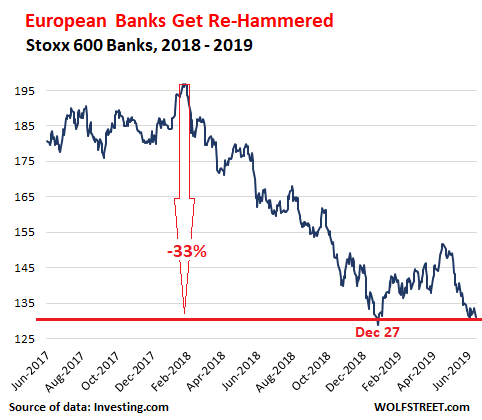 The notable thing about European bank stocks is just how brutally they've gotten crushed and re-crushed since May 2007, when, after a blistering bubble run-up, the Stoxx 600 bank index topped out at 534, having quadrupled in the 12 years from October 1995, during the euro bubble when only the sky was still the limit.