European banks are certainly a strong candidate to kick off the next financial crisis. From Wolf Richter at wolfstreet.com:
Just bumping along the bottom, from hopeless to hope and back to hopeless.
The amazing thing with Deutsche Bank shares is this: Since 2007, so for 12 years, bottom fishers have been routinely taken out the back and shot, every time, with relentless regularity – as have big institutional investors, from Chinese conglomerates to state-owned wealth funds, that thought they were picking the bottom. A similar concept applies to European banks in general. May 2007 was the high point. And it has been brutal ever since – 12 years of misery.
Deutsche Bank shares dropped another 2.9% on Monday in Frankfurt, and closed at a new historic low of €6.64 after hitting €6.61 intraday. This time, the blame was put on UBS analysts that finally stamped "sell" on the stock, replacing their "neutral" rating. Deutsche Bank's market cap is now down to just €13.8 billion. Shares have plunged 39% over the past 12 months and 60% since January 2018 (data via Investing.com):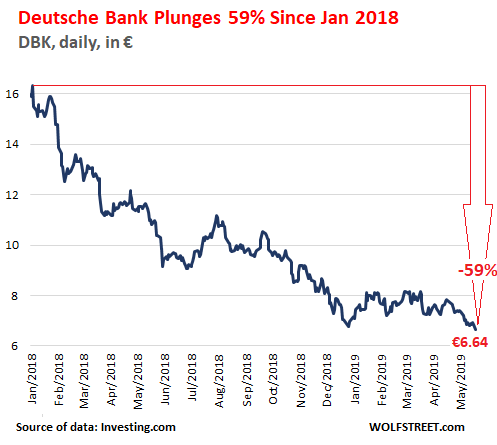 The bank has been subject to years of revelations of shenanigans that span the palette. Once a conservative bank that primarily served its German business clientele in Germany and overseas, it decided to turn itself into a Wall Street high-flyer that caused its shares to skyrocket until May 2007, when it got tangled up in the Financial Crisis that then led to a slew of apparently never-ending hair-raising revelations, settlements with regulators, and huge fines.