And still no Jeffrey Epstein client list. From Tyler Durden at zerohedge.com:
As we noted last week, US Virgin Islands Attorney General Denise George filed a lawsuit against JPMorgan for allegedly reaping financial benefits from Jeffrey Epstein's sex-trafficking operation – less than a month after George secured a $105 million settlement with Epstein's estate, which agreed to liquidate Epstein's islands and cease all business operations in the region.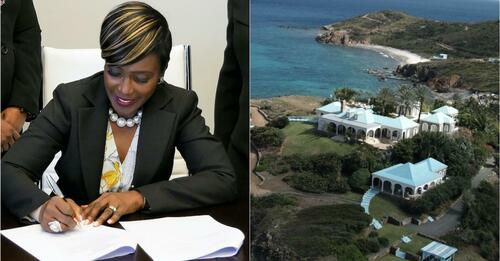 Three days later, George is now unemployed, after Governor Albert A. Bryan Jr. fired her for allegedly filing the suit against JPMorgan without his permission.
According to the complaint, for "Over more than a decade, JPMorgan clearly knew it was not complying with federal regulations in regard to Epstein-related accounts as evidenced by its too-little too-late efforts after Epstein was arrested on federal sex trafficking charges and shortly after his death, when JPMorgan belatedly complied with federal law."