Who's going to "win" the race to the bottom of the banking pile: Italy's banks or Germany's Deutsche Bank? It could be a dead heat. From Wolf Richter at wolfstreet.com:
The old question: When will she buckle?
Shares of Deutsche Bank fell 7.2% today in Frankfurt to €9.16, the lowest since they started trading on the Xetra exchange in 1992. They're now lower than they'd been during its last crisis in 2016. And they're down 71% from April 2015.
This came after leaked double-whammy revelations the morning: One reported by the Financial Times, that the FDIC had put Deutsche Bank's US operations on its infamous "Problem Bank List"; and the other one, reported by the Wall Street Journal, that the Fed, as main bank regulator, had walloped the bank last year with a "troubled condition" designation, one of the lowest rankings on its five-level scoring system.
The FDIC keeps its "Problem Bank List" secret. It only discloses the number of banks on it and the amount of combined assets of these banks. A week ago, the FDIC reported that in Q1, combined assets on the "Problem Bank List" jumped by $42.5 billion to $56.4 billion (red bars, right scale), the first such surge since 2008, as I mused…  Oops, It's Starting, Says This Chart from the FDIC: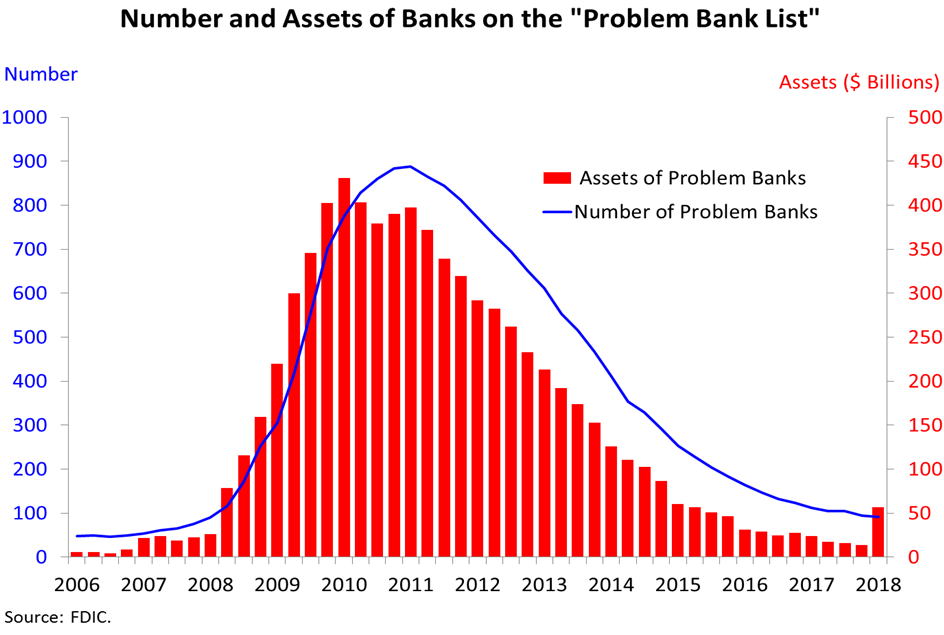 That increase in assets of $42.5 billion on the "Problem Bank List" nearly matches the assets of Deutsche Bank's principle subsidiary in the US, Deutsche Bank Trust Company Americas (DBTCA) of $42.1 billion as of March 31. And this has now been now confirmed by the sources: it was DBTCA that ended up on the "Problem Bank List."
The Fed's downgrade a year ago of Deutsche Bank's US operations to "troubled condition" was what apparently nudged the FDIC in Q1 to put the bank on its Problem Bank List. The Fed's ranking of banks is also a secret – for a good reasons: When these things come out, shares plunge and investors lose what little confidence they have left, as we're seeing today. This loss of trust can entail larger problems that then coagulate into a self-fulfilling prophesy that perhaps should have self-fulfilled itself years ago.
In addition to the shares sinking to a new low, Deutsche Bank AG's contingent convertible bonds, one of the instruments with which the German entity has increased its woefully drained Tier 1 capital after the Financial Crisis are now plunging again. The 6% CoCos dropped 3.6% today, to 90.12 cents on the euro. They're now down 15% from the beginning of the year: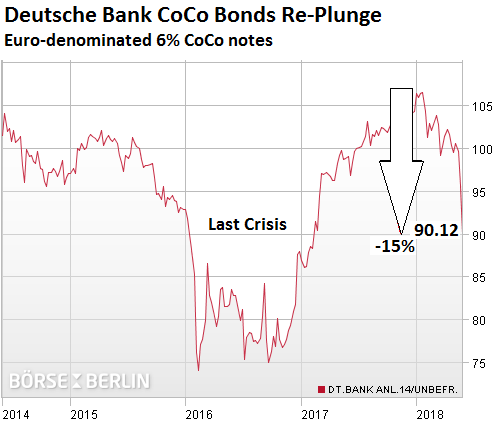 To continue reading: Deutsche Bank CoCo Bonds Plunge, Shares Hit Record Low, after US Entity Makes FDIC's "Problem Bank List"