Those costs are in addition to the regular costs of opening a restaurant. Anybody who has eaten a meal in a San Francisco restaurant has paid those costs; meals are exorbitant. From Simon Black at zerohedge.com:
In a report called Barriers to Business, the Institute for Justice (IJ) analyzed 20 US cities for how easy it is to open five different types of businesses. To cover a range, those businesses included a restaurant, a retail bookstore, a food truck, a barbershop, and a home-based tutoring business.
Entrepreneurs who want to start a restaurant, for example, have 13 different fees totaling $5,300, on average across the 20 cities. In San Francisco, those fees reach $22,648.
Remember, these costs and regulatory hurdles are all in addition to the normal costs and work of opening a restaurant.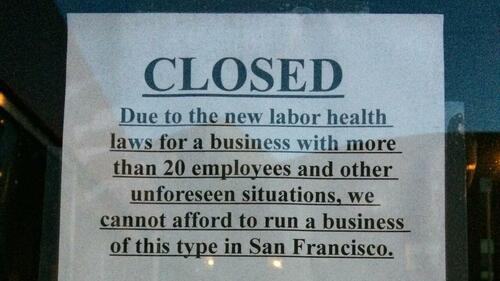 The IJ also looked at the number of regulatory steps, and the number of government agencies it took to open a business. On average, across the 20 cities, it took 55 steps and eight government agencies just to open a barbershop.
And as if the cost and time burden wasn't enough, the report found that in many of the cities, it was not even clear what all the requirements were to start a business.