Protecting yourself from criminals is trumping ideology. From Tyler Durden at zerohedge.com:
They may vote for lawmakers who would love nothing more than to disarm the populace, but a growing number of liberal women are embracing the Second Amendment so they can protect themselves.
"Our society and climate is changing… it's just better to be prepared for your own safety and protection. That's how we feel," said Laronya Day, who organized a lady's shooting day at Fortune Firearms in Southern California for herself and six other African American women in their early 50s.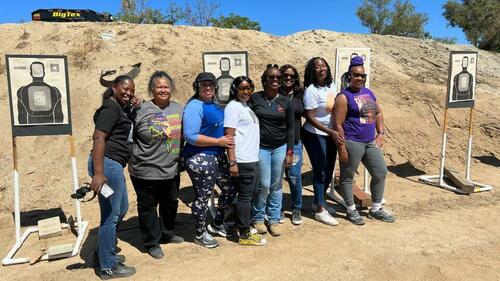 "Do you have some friends who would be totally turned off by this?" CNN asked participant Charlean Ward. "Absolutely," she replied. "That's their choice; I'm exercising my choice."
Brandi Joseph, owner of Fortune Firearms, led the women in a two-hour-long firearms training course, where she taught them about everything from which handguns are best suited for self-defense, to loading and disarming techniques. The women repeatedly loaded bullets into magazines, inserted them into the gun, chambered a round, and then did it all in reverse, before Joseph let them move on to live firing at paper targets.
'Definitely more closeted'
Being liberal, the women have to worry about judgement from their circle of friends.