A CMBS is a commercial mortgage backed security, a package of commercial mortgages. A big one will soon default, which is how credit crises get started. If this one doesn't kick the crisis into high gear, another will, and soon. From Tyler Durden at zerohedge.com:
Over the past 6 months we have repeatedly discussed the plight of commercial real estate which unlike most other financial assets, failed to benefit from a Fed bailout or backstop (but that may soon change). It culminated in June when we wrote that the "Unprecedented Surge In New CMBS Delinquencies Heralds Commercial Real Estate Disaster." The ongoing crisis in structured debt backed by commercial real estate in general and hotel properties in particular, prompted Wall Street to launch the "Big Short 3.0" trade: betting against hotel-backed loans, which had the broadest representation in the CMBX 9 index, whose fulcrum BBB- series has continued to slide even as the broader market rebounded.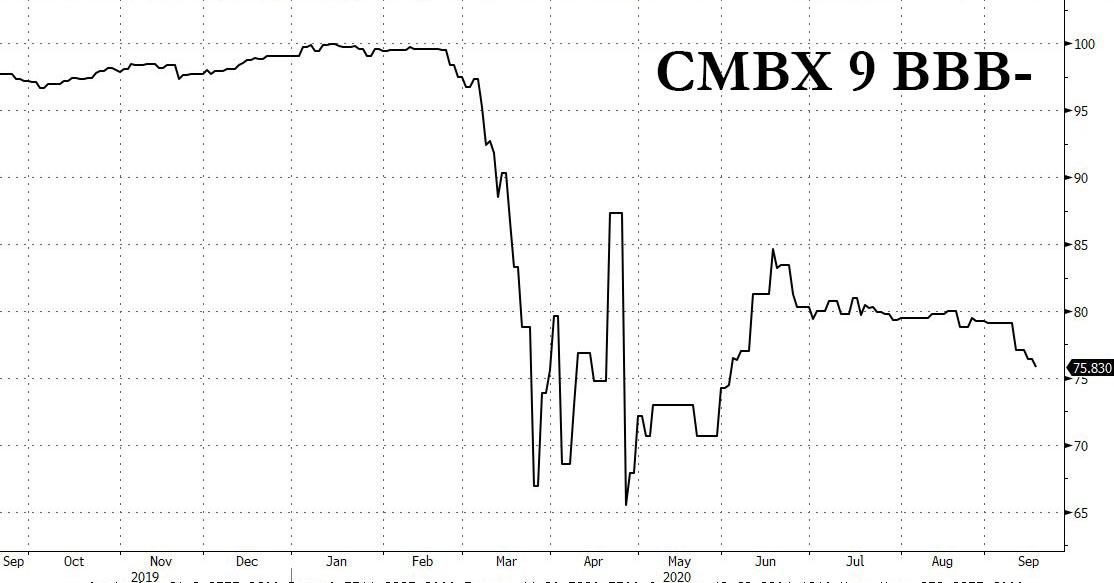 Yet while prominent failures within the CMBS universe had so far been rare due to overcollateralization of even highly distressed portfolios, as the economic slump drags on, as various stimulus measures expire and as landlords fail to make rent payment, the various embedded liquidity buffers have been rapidly draining and as a result we are now approaching the moment where one or more prominent names are about to suffer a spectacular blow up.
The first among them will almost certainly be the Starwood Retail Property Trust 2014-STAR, a portfolio which is backed by an almost $700 million defaulted loan which is collateralized by several malls – including The Mall at Wellington Green in Florida – owned by Barry Sternlich's Starwood Capital, and whose investors are starting to take losses according to Bloomberg, after the Covid-19 pandemic shuttered stores, crippled rental payments and wiped out emergency cash reserves that had been keeping interest payments flowing.
A big reason for the devastation is that The Mall at Wellington Green, the core property of the portfolio and Wellington's biggest taxpayer, saw its taxable value drop 32% in 2019 to $150 million as a result of the Nordstrom departure, according to the Palm Beach County Property Appraiser's Office. Starwood Retail Partners bought the property in 2014 for $341.1 million, marking the largest real estate deal ever recorded in the county at the time. It is now worth less than half, and that's before most of its other anchor clients also fled or filed for bankruptcy.