Empires often collapse from the outside and work in, which is one way to think of the American empire's most recent failure in Afghanistan. From Ross Douthat of the New York Times via zerohedge.com: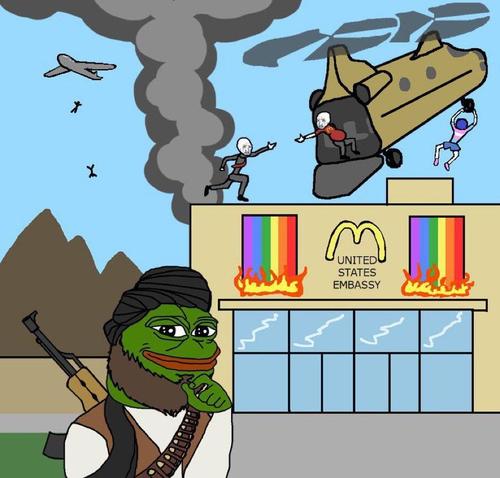 A meme artist's conception of of America's retreat from Afghanistan. 
In one of the more arresting videos that circulated after the fall of Kabul, a journalist follows a collection of Taliban fighters into a hangar containing abandoned, disabled U.S. helicopters. Except that the fighters don't look like our idea of the Taliban: In their gear and guns and helmets (presumably pilfered), they look exactly like the American soldiers their long insurgency defeated.
As someone swiftly pointed out on Twitter, the hangar scene had a strong end-of-the-Roman Empire vibe, with the Taliban fighters standing for the Visigoths or Vandals who adopted bits and pieces of Roman culture even as they overthrew the empire. For a moment, it offered a glimpse of what a world after the American imperium might look like: Not the disappearance of all our pomps and works, any more than Roman culture suddenly disappeared in 476 A.D., but a world of people confusedly playacting American-ness in the ruins of our major exports, the military base and the shopping mall.
But the glimpse provided in the video isn't necessarily a foretaste of true imperial collapse. In other ways, our failure in Afghanistan more closely resembles Roman failures that took place far from Rome itself — the defeats that Roman generals suffered in the Mesopotamian deserts or the German forests, when the empire's reach outstripped its grasp.
Or at least that's how I suspect it will be seen in the cold light of hindsight, when some future Edward Gibbon sets out to tell the story of the American imperium in full.