Evidently, people can be scared out of sex, or perhaps familiarity doesn't breed anything but contempt. From Robert Bridge at rt.com: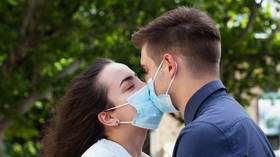 Instead of allowing the human spirit to triumph in the face of adversity, we cowered in our homes, prevented children from learning and playing together, and let our small businesses go up in flames. History will judge us badly.
Since it is well known that 'familiarity breeds contempt', it should come as no surprise that it also does little to breed babies. Even the most amorous lovebirds will go frigid when their wings have been clipped and predictions of impending doom scream from every mainstream channel. That may be the main takeaway from the radical experiment known as Lockdown 2020, as the US birthrate took an unexpected hit at a time when all the indicators were looking rosy.
The US birthrate didn't just go wobbly last year, it plummeted a whopping four percent, marking the worst single-year decrease in nearly 50 years. To further break it down, birthrates fell eight percent for Asian American women, three percent for Hispanic women, and four percent for African American and Caucasian women. Locked-down Europeans are reporting similarly precipitous declines.
And no, this decline was not the result of caged couples wisely resorting to safe-sex practices. Sales of Trojan condoms slumped six percent during the three months ending Sept. 30, 2020, coming on the heels of a 13 percent decline in the previous quarter. In other words, when you hit 'pause' on life you may succeed at 'flattening the curve', but you will also flatten the libido.